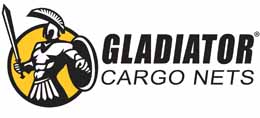 Cargo Net Benefits
1. Fast and easy single person operation that saves you time and frustration.
2. The best restraint possible for your cargo and peace of mind when you're on the road.
3. Many years of heavy-duty use creating a high value for your dollar.
4. Avoid large fines for unsecure loads.

Cargo Net Features & Advantages
1. Integrated, rip-stop meshing prevents snags and secures small objects.
2. High strength, weatherproofed material and quality construction create a durable, heavy-duty product.
3. Many securement points make for great versatility.
          a. Secures odd-sized loads
          b. Net coverage can be made larger or smaller
4. Grips your load under tension.
5. Distributes the load over a large surface area: no more broken cargo.
6. 287 pound per square inch non-continuous tear material.